Nireus---泉水女神的儿子,希腊将领中最英俊者
他是我们自己繁殖的第一只最接近我们理想中的公犬,
漂亮的体型,杰出的结构,强劲的驱动,甜美的脸庞和丰厚的被毛。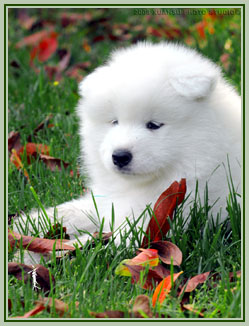 2011年中国CKU萨摩耶排行一
2011 CKU Samoyed No.1
中国第一只本土繁殖的萨摩耶世界选美登录冠军!



=============== * * * ===============
2008年9月南京NJKC全犬种比赛获PUPPY组 BIG
2009年2月广州祈福杯全犬种比赛获PUPPY组 RBIG
2009年10月中国首届萨摩耶国家展获专业赛 BISS
2009年10月中国首届萨摩耶国家展获本土繁殖赛 BISS
2009年10月CKU北京本部展萨摩耶单独展 BISS
2009年10月第四届FCI全犬种中国冠军展(CACIB)BIG3
2010年12月CKC杭州全犬种积分赛 RBIG
2010年12月CKC杭州全犬种积分赛繁殖展获BIS
2011年3月CKC杭州CKC全犬种积分赛 BIS
2011年3月CKU福州全犬种冠军赛(CAC)BIG
2011年4月CKU温州全犬种冠军赛(CACIB)BIS3
2011年5月CKU沈阳全犬种冠军赛(CAC)BIG3
2011年5月CKU上海全犬种冠军赛(CACIB)BIG3
2011年5月CKU上海全犬种冠军赛(CAC)RBIS
2011年9月CKU郑州全犬种冠军赛(CACIB)RBIG
=============== * * * ===============
2009年10月在北京,Nireus以其显著的优势在三天内连续获得
2009年中国萨摩耶国家单独展本土赛BISS和专业赛BISS
2009年CKU北京本部展萨摩耶单独展BISS
Nireus is the first home bred dog from our kennel that approach to our ideal type of samoyed.
Beautiful body shape, outstanding structure, clean front and rear with great reach and drive,
sweet expression along with good quality coat.
In October 2009, Nireus won back to back to back Best in Show at
1st Chinese Samoyed National home bred specialty
1st Chinese Samoyed National Professional Specialty
and also FCI China Kennel Union (CKU) Samoyed National Specialty in Beijing!